TM-2657PFully Automatic Blood Pressure Monitors
The TM-2657P is the latest model in the range of freestanding fully automatic
blood pressure monitors, whose ground-breaking designs have been well
received and have created many new applications, places of use, and markets.
The main reasons for the high reputation of the previous models are their fast
and accurate measurement, compact profile, ease-of-use, and durability.
The new TM-2657P has been superbly styled in Japan, having a slim and
compact design with increased printout speed, and offers a diverse selection
for connectivity.
The TM-2657P helps expand market potential in the various locations and
areas in everyday life such as hospitals, medical clinics, health checkups,
corporate wellness, pharmacy services, and fitness centers.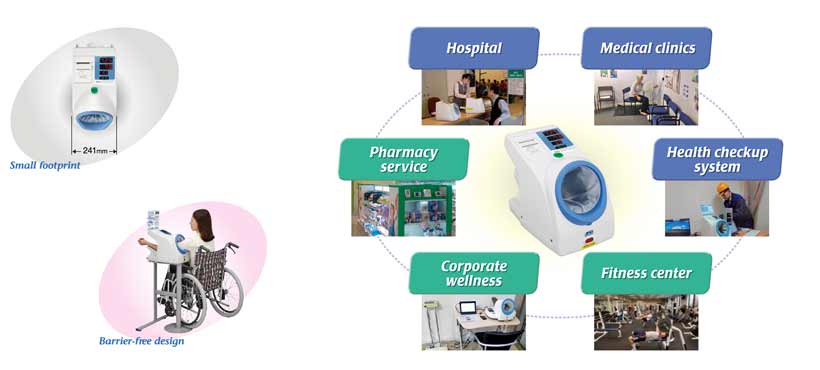 "Torque Controlled Belt drive Method" (TCBM)
adopted for the cuff fastening method


Accurate, durable and reliable oscillometric measurement of blood pressure on the upper arm relies on the correct cuff/bladder dimensions and pressure applied.

TCBM holds the upper arm perfectly with a personalized cuff circumference, the same measurement preparation carried out by clinical nurses.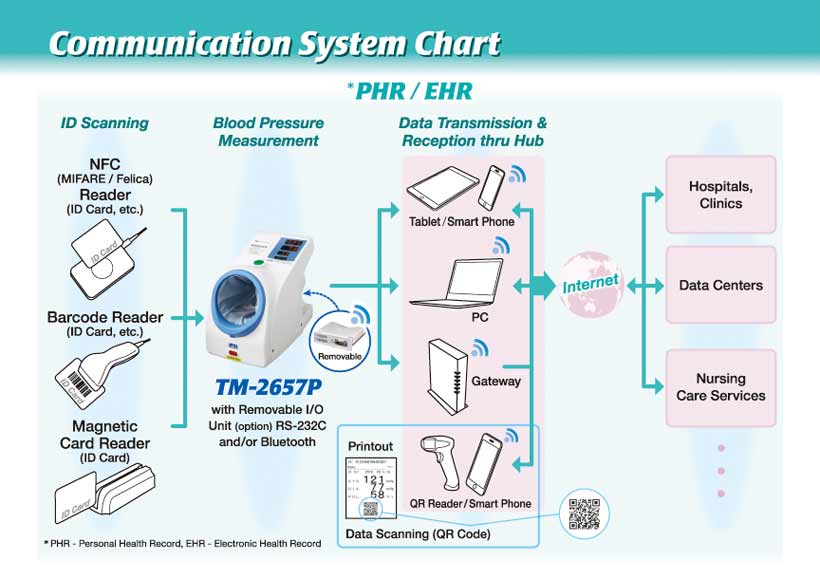 Features

User-friendly small footprint & barrier-free design


One-touch measurement


"Torque Controlled Belt drive Method" (TCBM), cuff fastening method with high accuracy and durability


Antibacterial arm cuff cover (included as standard)


Optional extension communication board (RS-232C and/or Bluetooth)


Reliable high speed printer with easy paper replacement


Various print formats available upon user request


Irregular Heart Beat (IHB) indicated on printout
Options
Dedicated stand
Adjustable height stool
Printer paper
Arm cuff cover (5 pieces/set)
Carrying case
Foot switch
RS-232C cable
External input/output unit (3 types; RS-232C and/or Bluetooth)
Specifications
Measurement Method
Oscillometric
AC power supply unit
Switching 100-240V AC 50-60Hz
Protection against electrical shock
Class I, Type B
Pressure display range
0-299 mmHg
NIBP measurement range
SYS 40-270 mmHg, DIA 20-200 mmHg, Pulse 30-240 bpm
Measurement accuracy
Pressure: ±3 mmHg, Pulse: ±5%
NIBP clinical test
BS EN1060-4:2004, BHS:1993, +/-5mmHg SD:8mmHg
Cuff fastening method
Torque Controlled Belt drive Method (TCBM)
External dimensions
241(W) x 324(H) x 390(D) mm (9.5(W) x 13.0(H) x 15.4(D) inches)
Weight
Approx. 5.5 kg (12.1 lb)
Applicable arm circumference
7 inches (18.0 cm) to 13.8 inches (35.0 cm)
Cuff size
125 x 300 mm (4.9 x 11.8 inches)
Display Type
Systolic (SYS), Diastolic (DIA), Pulse rate (PUL)
3-digit display by LED
Counting function
Display of number of measurements to date: up to 999,999 times
Applied pressure
Automatic inflation by air pump
Pressure detection method
Capacitance type pressure transducer
Operating conditions
Temperature: 10-40 °C, humidity: 30-85% RH, no condensing
Transport/Storage conditions
Temperature: -20-60 °C, humidity: 10-95% RH, no condensing
Safety device (Electrical)
Quick release when START/STOP button is pressed
Quick release when FAST STOP button is pressed
Clock Function
Clock Display, Date & Time (2015-2050)

發表評論
評價:
很差
非常好