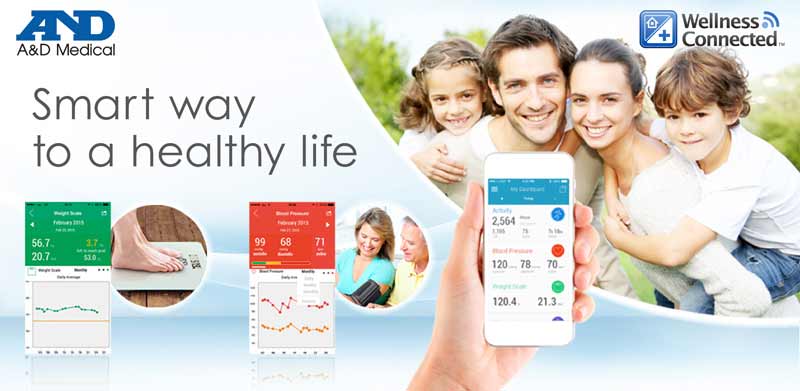 A&D Medical's WellnessConnected™ series offers a solution for accuracy with
quality assured products and easy-to-use app, A&D Connect.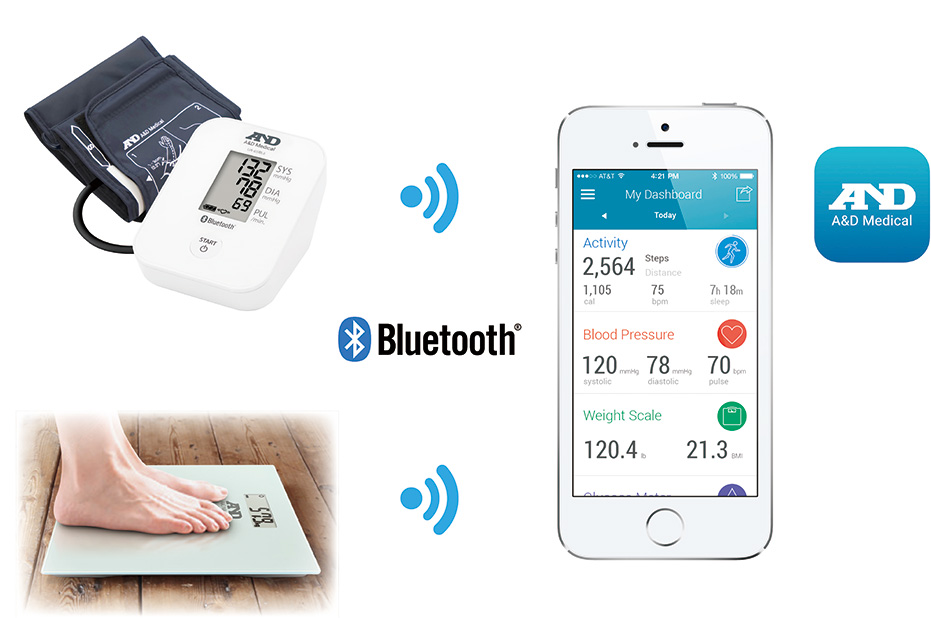 UA-651BLE
Digital Blood Pressure Monitor


The UA-651BLE was designed based on the UA-651, which
was designed to inherit A&D's original concept of blood
pressure monitors for easy and accurate monitoring.
It is clinically proven in accuracy and is equipped with
Bluetooth Smart technology.
Features
Bluetooth Ver.4.0LE
Bluetooth communication (Windows, iOS, Android)
Internal memory of 30 data records
Irregular HeartBeat (IHB) indicator - LCD only
Extra large 3-line display for easier reading of results
One-touch measurement
Latex-free and metal-free, slimFit Cuff
Compact design for portability
UC-352BLE
Precision Health Scale


The UC-352BLE is modern, compact design health scale with
durable top glass plate. It's step-on-start feature making it simple
to use with no buttons to press. It has 200kg(450lb) capacity,
0-100kg in 100g resolution and 100-200kg in 200g resolution.
Extended functionality of wireless communication is provided by
Bluetooth Smart technology.
Features
Bluetooth Ver.4.0LE
Bluetooth communication (Windows, iOS, Android)
Durable glass plate scale
kg/lb selection
Internal memory of 90 data records
0 to 100kg : 100g resolution / 100 to 200kg : 200g resolution
0 to 220.0lb : 0.2lb resolution / 220.0 to 450.0lb : 0.5lb resolution
Simply step on start weighing
Beeps on completion of weighing
Low profile stylish design

A&D Connect
Easy-to-use app, a solution for better accuracy



Monitor your blood pressureand track your weight and
BMI trends – all with one app from a trusted world-wide
leader in connected health.
A&D Connect guides you through the easy device set-up
process and provides at-a-glance results, goals, and
trends for you and sharing data with your family and doctors.


Leaflet (PDF 560KB)
Available on iOS 6−8
iPhone 4S or newer, iPad 3rd & 4th generation and newer, iPad Air, iPad mini.
Requires Android OS version 4.4 or 5.1
For compatible smartphones and versions, please check
http://www.wellnessconnected.jp/english/compatibility/



Just press the one button on
device then paring process
automatically starts.



A&D Connect app automatically
records the measurement data.
You don't need handwrite the
records to your logbook.



The A&D Connect app presents
all recorded data in clear graphs
allowing easy-to-view trends to
help your progress towards
good health.



You can set your goals and
appreciate the feeling of
achievement.
It helps you keep moving
forward towards your health
and wellness objectives.



A&D Connect app can be
programmed to remind you
to take and record valuable
measurement readings at
optimum times.



Data sharing through E-mail
with doctors, by SMS to your family.
Quick and easy way to inform
of your health condition or recent
concerns.



Data can be transferred to
HealthKit and HealthVault.
產品屬性
產品型號
UA-651BLE
測量方法
示波測定
測量範圍
【 壓力:0 - 299 mmHg 】 【收縮壓:60 - 279 mmHg 】 【舒張壓:40 - 200 mmHg 】 【 脈搏:40 - 180次/分鐘 】
測量準確度
【 壓力:±3 mmHg 】 【 脈搏:±5% 】
產品分類
Type BF
電源供應
4顆1.5V電池(R6P,LR6或AA)或 AC充電器(TB-233)(不包括)
臨床試驗
根據 ANSI / AAMI SP-101992
EMC
IEC 60601-1-2: 2007
記憶數量
30內置
運作環境
+10°C to +40°C / 15%RH to 85%RH
存放環境
-20°C to +60°C / 10%RH to 95%RH
發表評論
評價:
很差
非常好